TBH, I never remember to do this the night before. So, I usually throw it all in a bowl or mason jar once I come back upstairs after the kid is on the bus. It doesn't need to set overnight—more like 15 mins. So, I come up, put it together, throw it in the fridge and get to work. Once I can't do anymore work due to hunger…I've got something to put in my belly!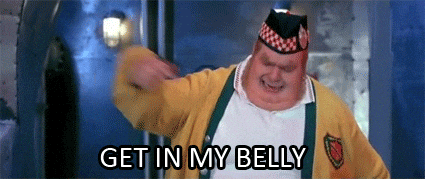 MoMica's 15-Minute Overnight Oats
This isn't a recipe. 
Measurements are arbitrary. It's all about the ingredients. Here are some suggestions:
1/2 Cup Oats (not the instant kind)
1 spoonful of chia
1 spoonful of hemp seeds
1 spoonful of peanut butter
several shakes of cinnamon 
Date Sugar Water for sweetening*
Oatmilk or water or whatever liquid you like 
Top with bite-sized banana pieces**, toasted coconut flakes, walnuts, sliced almonds, pistachios, blueberries, apples, whatever you have. Enjoy!
*What the heck is Date Sugar Water, Monica? If ya get some dates and put them in a jar with water and store them in the fridge, you get a natural sugary date water. I use this as a sweetener in whatever I need to sweeten something. Think, pancake batter, and um, overnight oats and...I can't think of another way I use this at the moment...
**Check out the video for my banana trick